Transportation in Barcelona
Public transportation in Barcelona is affordable, efficient, safe , well-maintained and used by everyone. It is not uncommon to run into people you know on the Metro – or many places for that matter, Barcelona is pretty small!
There are buses, trains, above ground light rail systems, shared car services and city bicycles, but the trains and Metro are the easiest to immediately understand with signs and prices available in many languages. You don't need a vehicle in you live within the city limits, or even outside the city limits in most cases.
Driving in Barcelona
In fact, owning a car is a big hassle. Parking is difficult, you have to pay monthly for (small, cramped and shared) garage space, and the rates are high-between 75 adn 150 euros per month just to park. Not to mention short term parking that can run 25 euros a day. Insanely narrow spaces and high traffic congestion means few vehicles escape dings and dents for long. If you live outside the city, parking is easier but within the city limits, you don't need, or want, the hassle of a car.
Even in surrounding towns/suburbs of Barcelona a car is not essential. It's possible to walk, bike, or bus around town and to the train for further distances, or even use the new car sharing service to get you where you need to go.
By far the quickest and best way to get around Barcelona is by scooter. I have a 250cc scooter that gets me to work faster than public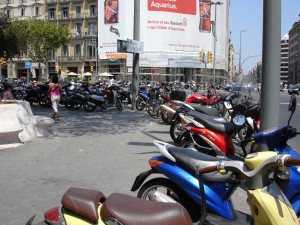 transportation, as my office is just outside the city center. Otherwise I would use public transport, or ride a bike. Scooters can split lanes, pass anywhere, park anywhere and are respected by drivers in cars because nearly all the residents in BCN either have or started with a scooter.
Any stoplight on a major road is a delight with the scooters lined up at the front all take off in a roar just before the light goes green. Pedestrians beware, because when you green walk signal starts flashing red, the scooters hit the gas.
Public Transportation
The majority of Barcelona's transportation services participate in an integrated tariff system, meaning if you buy one ticket, you can use it for all the services: Metro, Bus, NitBus (Night bus that runs all hours), Tram (above ground light rail system) and regional commuter trains (FGC and RENFE), and if your trip lasts under one hour and 15 minutes you only pay for one ticket.
Single use tickets cost under 2 euros and many options for multiple use tickets exist, plus there are discounted tickets available for people under 25 and for seniors (children under four ride free).
A T-10 ticket is good for ten ten trips and is probably the most used ticket. Price is € 8.25 for within the city limits.
Monthly passes with unlimited use for thirty days (T-Mes 51 euros in the center up to 145 euros for way outside the city limits) or fifty trips in thirty days (T-50/30, 33.50 to 129 euros, depending on zones).
The T-Familiar (family pass) allows multiple people to make a total of seventy trips on one ticket for 30 days.
The T-Trimestre is an unlimited use, ninety-day ticket
Metro
The far-reaching and user-friendly Metro is the best way to get around Barcelona upon arrival. Automated ticket machines operate in all major languages, though announcements are made in Spanish and Catalan. Operating hours are Sunday-Thursday (and holidays), 5:00am to midnight, Fridays 5:00am to 2:00am, and 24 hours continuous Saturdays.
Bus
With over 100 routes, the bus system in Barcelona extends even further, and takes you closer to your doorstep, than the Metro. Though understanding how to read the system can take a bit of patience.  The Nitbus (night bus) runs every twenty minutes after 11 pm until 5 am, right when the Metro starts up again so you'll never be stuck.
Tram
There are six Tram lines that extend to territories further out than those covered by the Metro. Lines T1, T2 and T3 cover some popular neighbourhoods not well-served by the Metro; including Pedrables, Esplugues de Llobregat and Sant Just Desvern. Line T4 runs on the opposite side of Barcelona and has stops close to the beach at Vila Olímpica and Diagonal Mar.
Ferrocarrils Generalitat de Catalunya (FCG) Regional Trains
FGC trains go to regional suburban areas that the Metro also reaches and beyond. It's a fast way to commute to and from Barcelona and surrounding towns.
RENFE Train
RENFE is the Spanish railway network. RENFE Cercanías are the regional commuter trains in Spain's major cities and operate similar to the FGC trains, linking surrounding towns to Barcelona.
Taxi
There is an endless supply of Barcelona taxis at any hour of the day or night. They are easy to hail and are found all around town and at taxi stands in the center. Rates are reasonable and should be posted in the cab. Tipping is most definitely NOT required and will probably result in a surprised, happy driver. It is totally reasonable and not an insult to leave the cabbie with .20 to .50 cents extra.
Don't expect them to speak any English, though they may know a few words. It is better write your address down or a nearby landmark  if you don't speak Spanish.
Biking in Barcelona
Biking, in my humble opinion, is the one of the best way to get around Barcelona. Bicycle lanes exist on many of Barcelona's main streets, and the city council is continuously working to make Barcelona more bike-friendly. You can take your bike on the Metro, Trams and FGC depending on the hour-the highest volume hours (7 to 9am and 5 to 7pm) forbid bikes on the Metro though I see people break that rule all the time.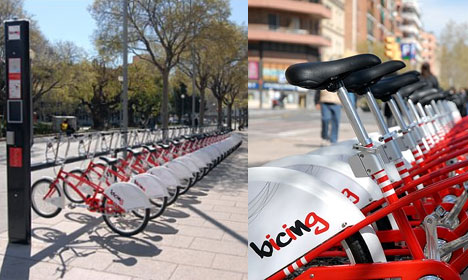 Even better than your own bike is the city bike system Bicing. This is hugely popular (for good reason) sharing service with hundreds of bike stations all over the city for the price of 37 euros per year, with small incremental charges for any one use that goes beyond 30 minutes. If you need to use a bike longer, drop one in a station, have a coffee, then pick one up again ten minutes later. Or just pay the .50 cent fee.
Note: You must be a resident with a bank account and a NIE to use this service.
More info on transportation in Barcelona:
Wikipedia Metro and train overview