For those unfamiliar, here is what is happening:  The region of Catalonia (Catalunya) is generally considered to be fighting for independence from Spain, though not everyone would say that it is fighting for independence, because not everyone supports it. I won't get into the reasons why – suffice it to say it has to do with money.
The culture in Catalunya is quite different from Central and Southern Spain, though one could say the same about most European countries that are larger than the size of, say, the state of Rhode Island. In Germany, the Bavarian culture is worlds away from northern regions like Saxony and Brandenburg, with Bavaria generally considered "old world", with more farming and less industrialized business as sources of livelihood. Italy is similar – there are distinct two cultures, one of the North and one of the South , dividing the boot right in half. (Side note: We Americans are familiar with Italy's Southern culture, almost exclusively, as the mass emigration out of Italy after WWII occurred in the South). So it isn't surprising that the northernmost regions of Spain feel they are very different from the Southern and even Central areas.
There are a few more points that distinguish the Northern regions from the Southern : Catalonia, Galicia, the Basque regions have their own officially recognized languages that are spoken along with the first official language, Spanish. So do the Balearic Islands, though Catalonia claimed them for itself in the recent past and the official language is Catalan. (Though that gets messy, because if you ask any Mallorquin if he speaks Catalan and he will tell you absolutely not–he speaks Mallorquín. Ask any Menorcan- and he'll reply he speaks Menorquí, and ask an Ibizan or Formenteran and he will tell you he speaks Eivissenc. Their debate is not so much as to whether Catalonia should secede, but whether they are Catalan or not!)
Get the picture? Its a political topic that parties use to their advantage, as political parties are wont to do. And it is a local topic that people feel passionately about, both for and against –  assuming you are not asking an Okupante, who will always be for seceding. You know, anarchy and all. (Or communism. They can't seem to agree on that point.) There are many Catalans here who are so passionate about it that they refuse to speak Spanish. These are usually the younger, post-Franco, generation. The first to have grown up with Catalan in schools and are really the embodiment of the immediate backlash against the dictator after his death. They also tend to learn English very well, and will prefer to speak it over Spanish with you. (Or Italian, or French – anything but Spanish.)
Any which way, people will let each other know where their loyalties lie. For example: There is an old apartment complex near me that is bisected by the barrio's main street. At the bottom of the street, standing in the main pedestrian area that goes right through the middle, there is a building on the right, and another on the left. As it happens, the right side flies the Spanish flag and the left the Catalan flag, both facing each other. One could, if one did not know, surmise that the complex flies both flags, because this place is both Spanish and Catalan. But one would be wrong. Because these are flags flown by the residents themselves, not the apartment complex.
It's easy to imagine how this might have played out: One side stuck a flag out, let's just say it was the independence supporters began. Some neighbors across the street don't really agree with that political agenda, so they stuck their Spanish flag on the roof in defiance, but primarily to watch for a reaction and with hope in their hearts, piss off their neighbors. Then they glower at each other's flags all day long. Perhaps someone in the regional flag building sneaks up and takes the national flag down one day. This pisses the person off who put the national flag up, so they sneak over and steal the Catalan flag. And on it goes.
Flags are everywhere: hanging out windows, on shirts, stickers on cars and scooters, flying at events. You'll generally see far more Catalan flags and Catalan independence flags (Catalan stripes with a blue triangle with a single star on the left side). Probably because independence supporters are underdogs in that their wish is not what is. Nationalists don't really have anything change to push for because, well, what they agree with is already in place.
Edit: Two hours after I posted this, I went on a bike ride and passed this: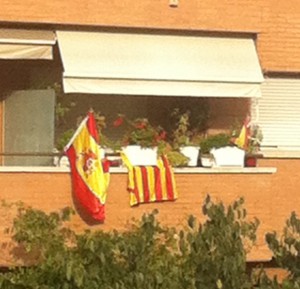 Both flags being flown! First time I have seen this.
In addition to the flags, there are events and marches and demonstrations in support of seceding. (And graffiti – God, graffiti is everywhere. Sometimes with Anarchy symbols and sometimes with Communism symbols-What a dichotomy to be confused about.) It's all around, and if you live here, early on you'll be asked how you, as an expat, feel about Catalonia's independence – usually by the separatists.  If you support it, you'll be embraced by the separatists; if you oppose it, they happily engage in debates with you about it. I've never been asked by a nationalist what I thought, but it will still get brought up in conversation eventually, and then you hear all the reasons why it shouldn't happen. It can be hard to be indifferent – the Spanish do love a good debate. 
As for me, I've heard all the reasons for and against – some are sound, some seem misinformed. But…I live in an expat world:  I don't vote here, I'm not a citizen, my circle of close friends are from all over the world and other parts of Spain (some of whom are from regions that also want to secede from Spain). Yes I have Catalan friends, but most of them have been expat themselves and can relate.
The expat culture tends to be its own thing, with a view of the rest of the world that is rather neutral. We are all uprooted and don't have ties or history with the places we live. We also won't gain anything if it happens –or if it doesn't. We have things going on back home that we are more tied to, (i.e. my own country's government just shut down). So even though we live here, it isn't our place to support or oppose something as personal as this topic.